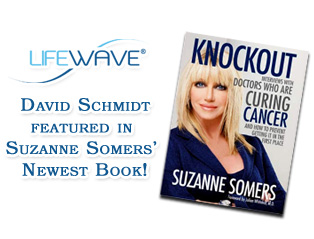 We are very pleased to announce that well-known actress and health advocate Suzanne Somers has entered into a significant long-term relationship with LifeWave! As LifeWave Ambassador, Suzanne will be an advocate of the LifeWave products and an integral part of our marketing efforts.
What this Means for LifeWave
This is a significant and important development for LifeWave. Suzanne is a visible, trusted, outspoken advocate of a holistic approach to health. In addition to her work as a well-known actress, singer, comedienne and businesswoman, she is a #1 New York Times bestselling author, with numerous books on health and wellness. Suzanne's endorsement will garner more visibility for LifeWave, helping propel us to new levels of growth.
This appointment solidifies, expands and strengthens Suzanne's long-standing relationship with the company. In this new role, Suzanne will be:
• Participating in more LifeWave events
• Speaking on behalf of the company on LifeWave conference calls
• Featured in LifeWave promotional videos
"Suzanne and her team understand who we are as a company and what we do," says LifeWave Founder & CEO David Schmidt. "Our visions are very synergistic, and we are tremendously enthusiastic about this relationship."
Suzanne was first introduced to LifeWave in 2006. After trying the patches and seeing their effects first hand, she became an avid supporter. In her latest bestseller Knockout, Suzanne says, "I love these patches. They are nondrug and do the job perfectly. I couldn't be without them, and David Schmidt is a genius for creating them."